(updated: May 10, 2021)
---
What is: "alternative photography" or "alt-photo"?
"Alt-photo" is to me a collection of old photographic printing methods invented and practiced roughly between 1840 and 1930, an era where photography came from "photogenic drawing" into a "form of art" - an era comprising the rise and fall of the "Pictorialism" movement. The term "alternative photography" comes from an era where dark room wet (silver) prints where the conventional way of printing (1970 until about 2000?). But now even analogue silver prints are alternate to now regular inkjet prints, etc. The (wet print) darkroom replaced by computers, software and digital printers - since 2003? Another good name for "alt-photo" is Post-Factory Photography (see also below the article by Judy Siegel).
As far as definitions go, here is my latest (simple) version of a definition of "alt-photo":
"Alt-photo processes" are processes of "Analogue Photographic Printing Craftsmanship" - including all analogue photographic printing processes invented & practiced in the 19th and 20th century (roughly between 1820 - 1999).
These processes will produce an analogue print, although in this time and age some minor hybrid (i.e. digital) steps may be included into the current version of the process, especially when equipment or materials aren't available anymore.
For instance: digital negatives can be used for contact printing with the Salt printing process, but the final print of an analogue negative made on an inkjet printer isn't considered "alt-photo".
Practitioners of "Pure Alt-photo" (PAP) may want to stick to using only analogue methods and materials, thus avoiding hybrid methods or digital steps in their practice, just because they can and like to do so. :)
Using some (minor) digital techniques within the process is what often is called "Hybrid Alt-photo" (HAP) and is also very interesting, as long as the final print itself is of an analogue nature.
Bert from Holland, 2014
member of The Guild of Analogue Photographic Printing Craftsmanship (GAPPC)
~ the guild for all Pure Alt-photo (PAP) and Hybrid Alt-Photo (HAP) processes ~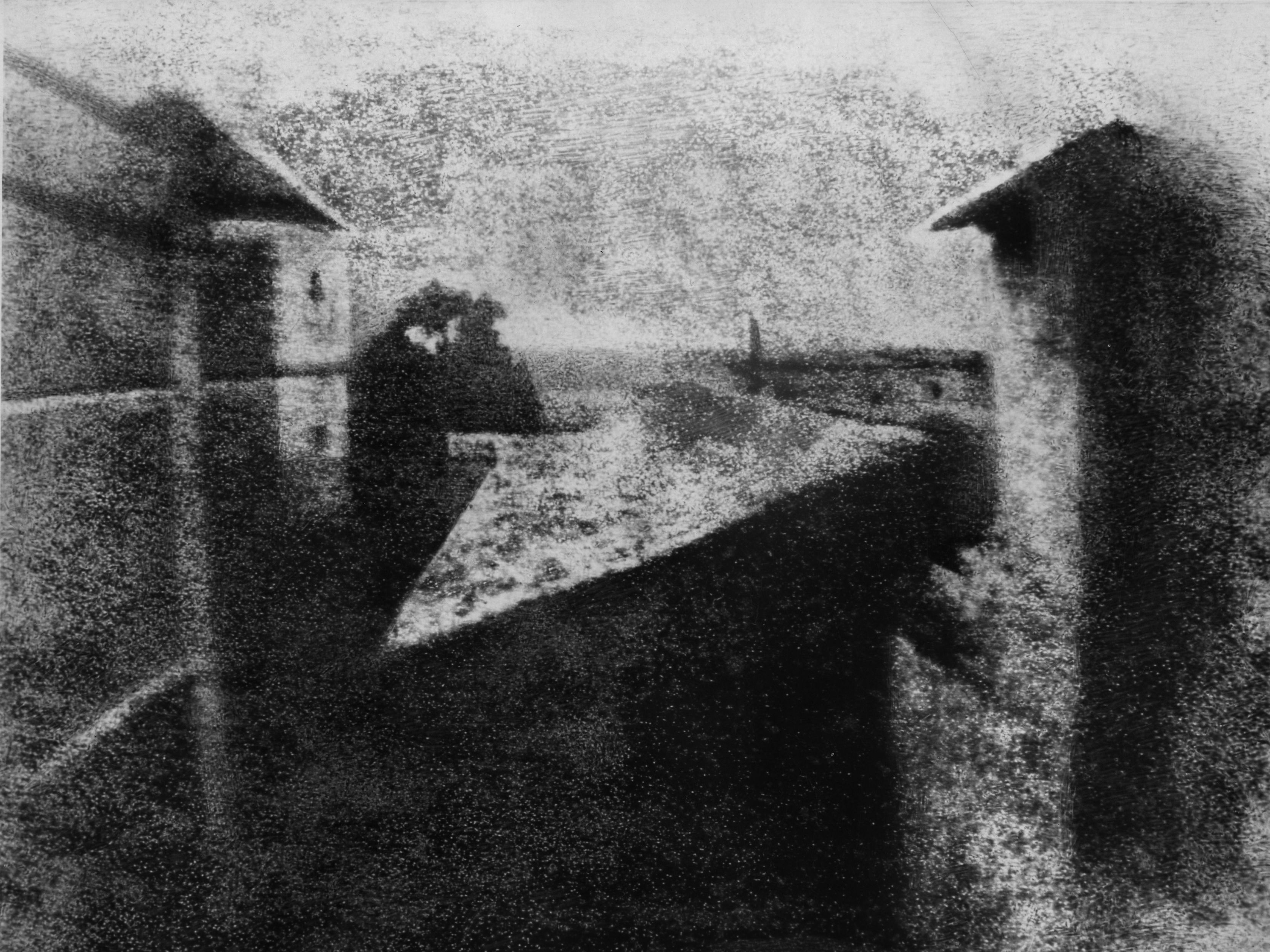 One of the first photos: "View from the Window at Le Gras", made by Joseph Nicéphore Niepce in 1826 or 1827 in Saint-Loup-de-Varennes, France, with bitumen and lavender oil and an eight hour exposure.
---
What is: "Photogenic Drawing, Salt printing and the Calotype process"?
I'm especially interested in the printing processes invented by William Henry Fox Talbot (1800-1877). I've made a separate page about his inventions - Photogenic Drawing, Salt Printing and the Calotype Process (a.k.a. Talbotype) - and some other processes derived from his work, like Albumen Printing.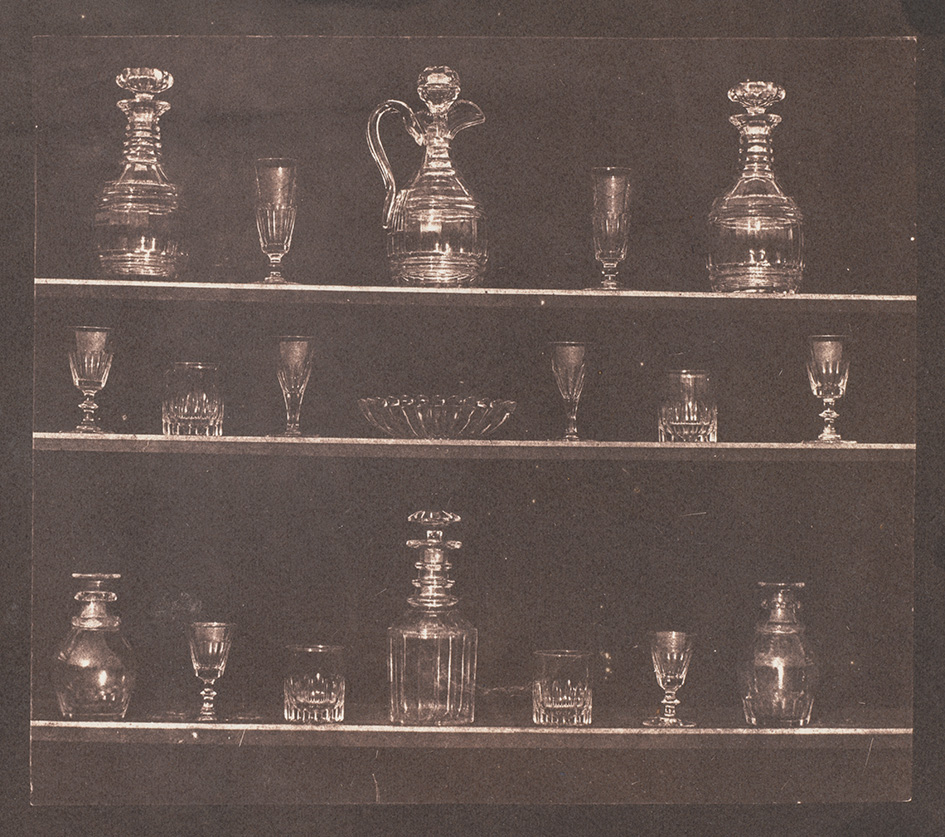 William Henry Fox Talbot: "Articles of Glass" (Salt print from paper negative, made before June 1844)
---
What is: "Pictorialism"?
I especially like the photographic era of "Pictorialism" from 1870 until 1920, where a lot of these alt-photo processes where paractized and manipulated in an attempt to make art with photographic prints. Or as the Encyclopaedia Britannica describes it: "Pictorialism, an approach to photography that emphasizes beauty of subject matter, tonality, and composition rather than the documentation of reality. The Pictorialist perspective was born in the late 1860s and held sway through the first decade of the 20th century. It approached the camera as a tool that, like the paintbrush and chisel, could be used to make an artistic statement. Thus photographs could have aesthetic value and be linked to the world of art expression."
The name "Pictorialism" itself is derived from the thought of Henry Peach Robinson, British author of Pictorial Effect in Photography (1869), a handbook that for decades remained the most influential work in English on photographic practice and aesthetics. Robinson was a most famous photographer in England and the leader of the Pictorialist movement, which advocated achieving painterly effects in photography.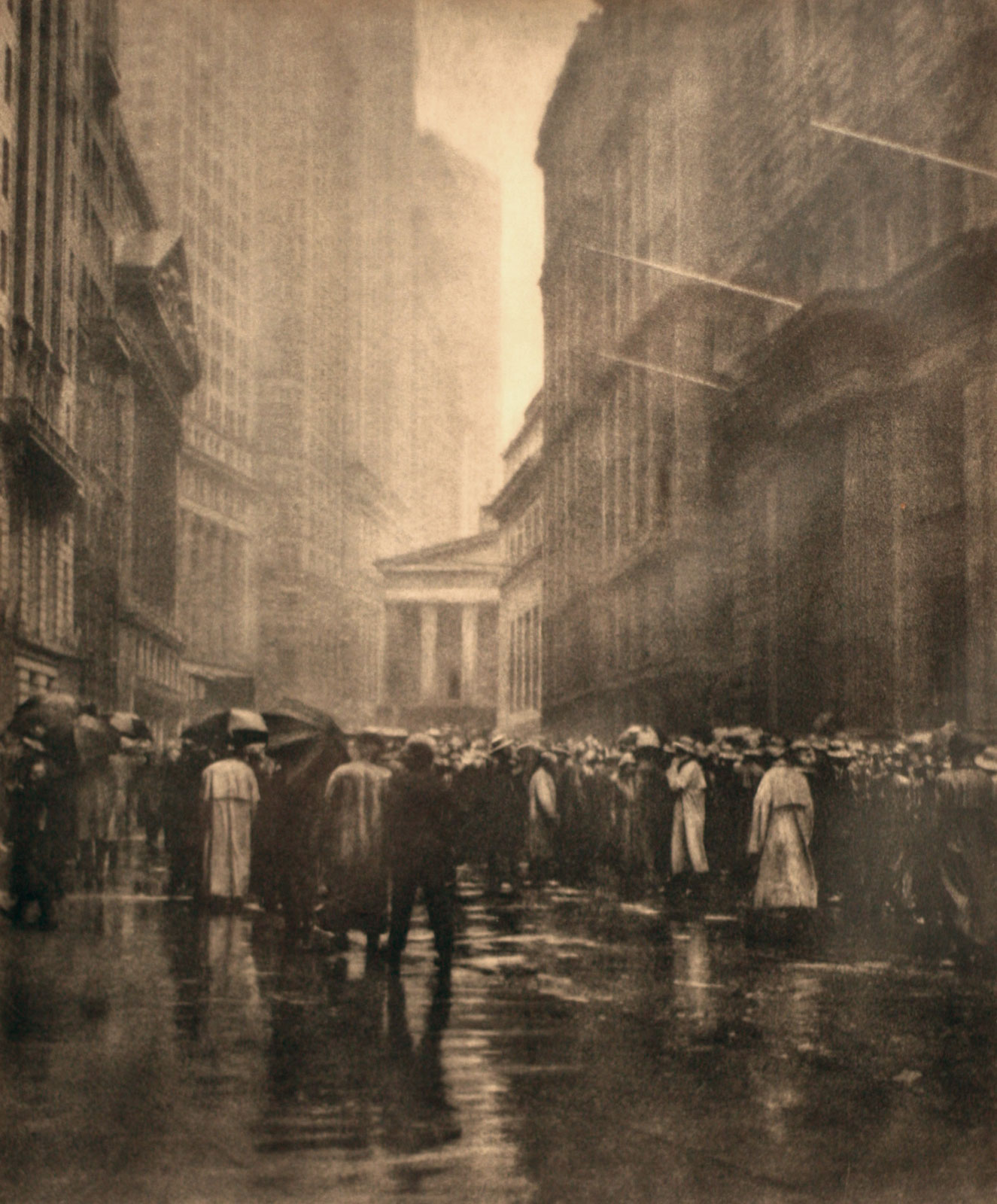 Petrocelli, Joseph: "The Curb Market - New York" (Bromoil print, 1920)
---
What is: "Fresson Process"?
I read an interesting article about the beautiful Fresson process, titled: "THE DIRECT CARBON or FRESSON PROCESS", written in 1978 by C. Badrinathan and C. Rajagopal. This article was published in The Photographic Journal, May/June 1978, page 130-134.
PDF of the scanned original article (file size 9 MB)
It's an interesting article and maybe this will help to keep the process known - or even have it re-examined and reproduced someday. Or as the authors of the article wrote: "We sincerely hope this article will rekindle interest in this unique process and that here will be many workers using it. So saving it from extinction."
I have made a plain text version of this article as well for easier reading. It's a much smaller document with only the transcription of the article without the images:
PDF of the text file (file size 111 KB)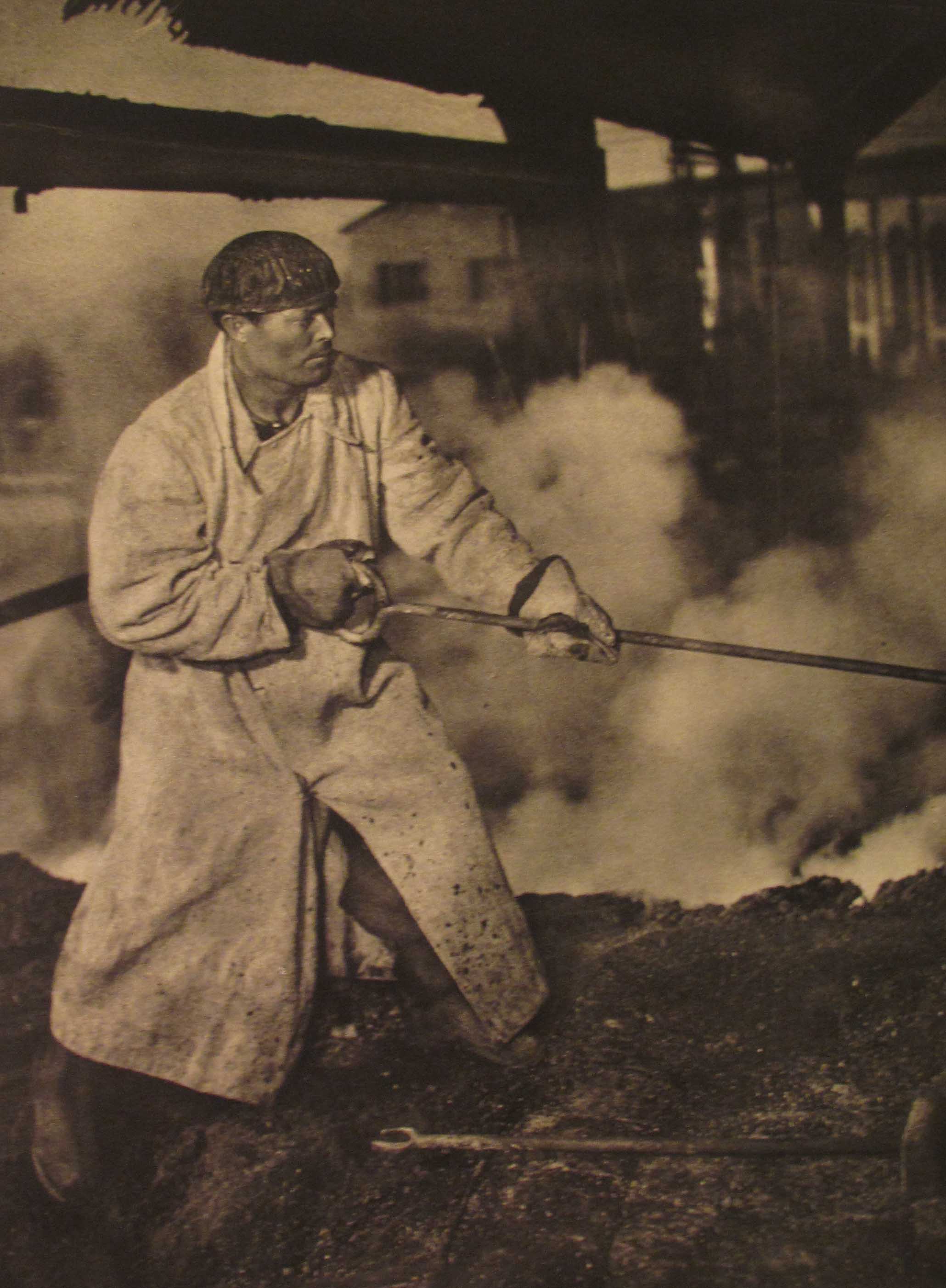 José Ortiz-Echagüe: "Picador de alto horno" (Fresson print, 1951)
---
Some of alt-photo processes I like to practice are:
kallitype printing (a.k.a. VanDykeBrown)
"main stream" silver prints from the analogue wet darkroom
---
Here are some examples of my work: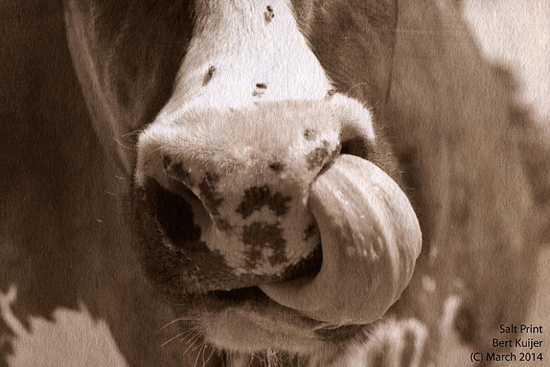 This print is made with the alt-photo process of "Salt Printing" on aquarel paper. I scanned my original photo and made a special digital inter-negative for this printing process. Salt printing is an old process technique from 1833, whereby paper is treated with a solution of salt and silver nitrate and then subjected to outdoor exposure (sunlight) or an indoor UV lamp. I used a lamp this time. I love this process for its simplicity and beauty of the prints.
---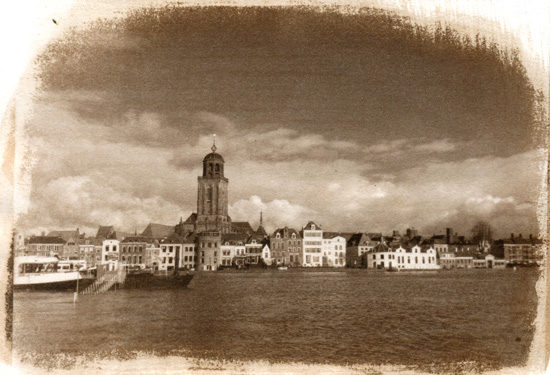 This is an Albumen print on aquarel paper, made from an anlogue negative shot with a Olympus Mju-II (never leave home without it). This is the town of Deventer at high water of the river IJssel. "Albumen" is made from fresh eggs and used instead of gelatine to seize the paper. It also gives a beautiful glow to the print (sorry, I can't show that online).
---

Albumen print on aquarel paper. I'll post a Salt print from the same negtive later for comparison.
---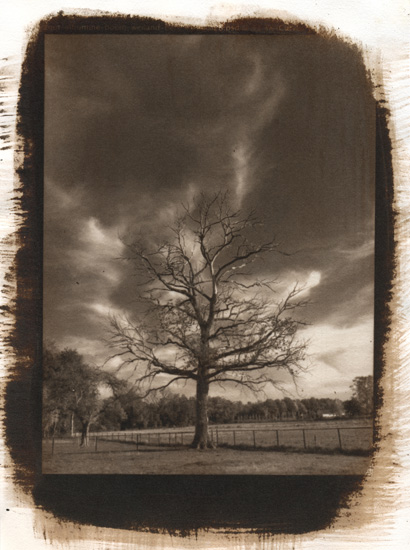 Albumen print on aquarel paper. This is an old Oak tree (over 130 years old), that died after it was struck by lightning.
---
I followed a course in making dry plate negatives (on glass plates) yesterday given by Dutch photographer Norman Post. It's a very nice and old technique. I made these 2 portraits: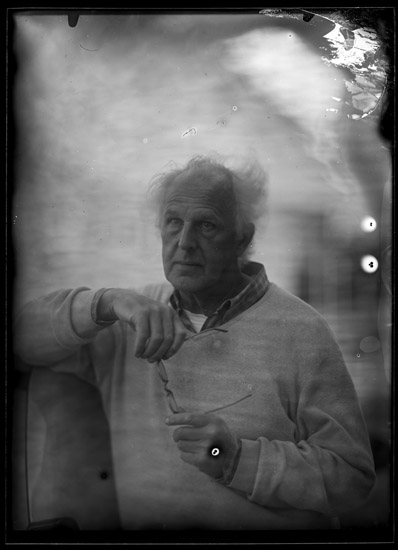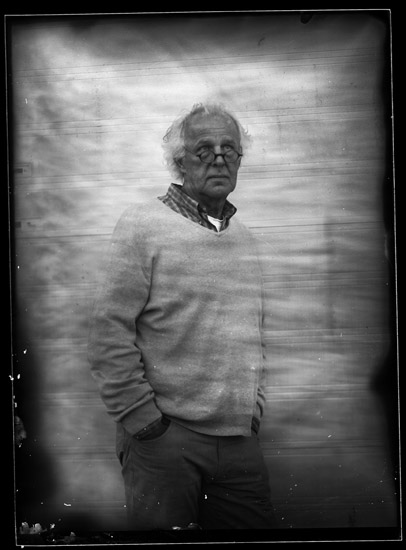 - Emulsion = Rollei Black Magic
- Iso = 1 (yes: only one!)
- Exposure time = 1 second
- Apperture = f /4.5
- location = outdoors in the shade.

I used an old Russian large format camera: FKD 13x18 (almost 5x7") with an Industar 215 mm lens and an Industar 300 mm lens.
---
One of the best books about alt-photo and its history: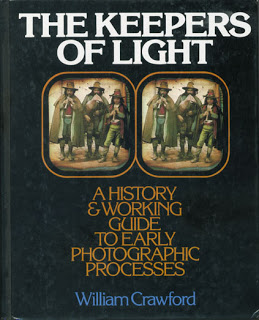 ---
Article "Yes, Post-Factory Photography" - by Judy Seigel:
"On the internet they call it alternative photography, although the conventional wisdom has it that all silverbased media will soon be "alternative". Academia likes the term Non-silver Photography (title of the course I taught), although some of the processes use silver, which maddens the literal mind.
I use to call it croocked photography, in the sense of not straight photography, intol straight alternatives like platinum printing became prominent. (I was also warned that "croocked" might attract the wrong sort.) Another term, "extended photography", is so inclusive it seems too inclusive for our purposes; "classic" and "handcoated" don't go far enough.
But by any name, the strange bedfellows of this relativity new phenomenon circle the globe, from the fine-detail fiends of platinum and palladium, and the view-camera virtuosos who stalk the wilderness with handheld computers, to the coat-it-with-a-broom acrobats of the mural cyanotype, and the toy camera crowd who can't start a shoot until thet tape up the light leaks of their Diana.

(…) The movement embracing all these minds, methods and materials is probably undefinable, but no matter. It all happens after the factory, hence for the purpose of this publication." (i.e. World Journal of Post-Factory Photography)"
(taken from the article by Judy Seigel, editor and publisher, in: The World Journal of Post-Factory Photography, issue #1 (April 1998), page 1+ 2)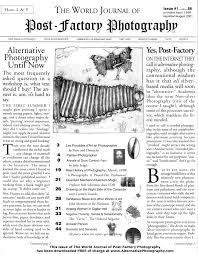 ---
"Have fun and catch that light beam!"
Bert from Holland

my blog: http://thetoadmen.blogspot.nl
my pinhole group on Linkedin: http://tinyurl.com/pinholegroup
Click here to send me an email


"... avoiding the common illusion that creative work depends on equipment alone ..." (Ansel Adams in his book "The Camera")
"... I enjoy vintage cameras as "users," rather than imprisoning them in some display case"
"... It's the bottom of a staircase that spirals out of sight ..."
"... but I just love the good natured mirth you provided ..." (a complement I enjoyed receiving)
(The lens scematics in my logo is a Carl Zeiss Distagon 21 /2.8 retrofocus lens)
[ All images and texts on this site are under copyright! Please do not copy © 2016 ]